I'm a big fan of Chaturbate! I love logging in there and watching some awesome guys enjoying themselves and performing for an audience. It's changed a lot over the years, but while most of the more popular performers are there to run a business it's clear they love doing it. They haven't lost that spark of exhibitionism.
It really is a great place for guys who like to show off their smoking hot bodies. Whether they're a sexy young twink or a handsome college jock, a big and studly muscle daddy or a hairy bearish dude. Just know that you can go over there and find someone who wants to have guys jerking with them. They might not all be vocal and engaging with their fans. You can always tell when a dude is there to have fun as much as he's there to make money and that's what makes it so different from a lot of the other gay cam sites.
Being exposed is what it's about for quite a lot of them. They're the guys who enjoy displaying their dick in the showers at the gym. Guys who are inviting others to watch them jacking it. Or the dude you find in the men's room at the club, playing with his meat at the urinals and tempting other men around him to get a good look.
Males of Chaturbate
There are a few guys on there who are all about being exposed and showing it off publicly. One of the best is Chaturbatingforu, a muscled Spanish guy who likes to get naked in his car and broadcast himself with a toy in his ass and his cock in his hand. Not surprisingly he's got a lot of fans, more than 22,000.
Then there's Ryanzawww, a real handsome straight guy who finds time at work to get online and broadcast himself to hundreds of fans. He might be into women but there's no denying he gets a thrill out of showing off his cock to whoever wants to enjoy it.
Today I've been watching straight friends Hotty_Simon and Sailor_Dan having fun with their uncut cocks in public. Apparently getting their dicks out and sharing some oral fun in an alley, jerking each other off and being cheered by more than a thousand fans watching them. I have no idea where they are but I do know they're Russian. They both seem to love being on camera for guys to watch.
Chaturbate men exposed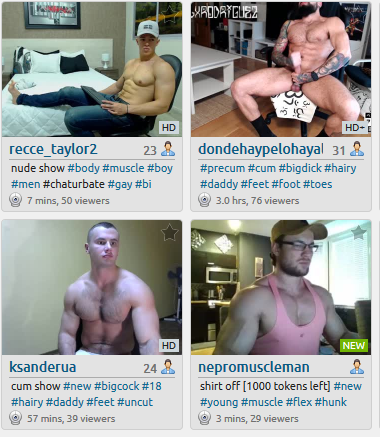 With thousands of performers there to tune into you're never left bored. With more arriving every day eager to expose themselves to the world you can be sure you'll always be adding to your list of models. I'm never disappointed when I go to check out some guys there. Even if none of my fave models are broadcasting most of them have a few previous videos I can watch. Certain things I might have missed since I last tuned-in.
The men of Chaturbate are much better than the ones on any other cam site. In my opinion it's because these guys seem to actually be enjoying it. They love showing off their big cocks and fine looking bodies. It doesn't always matter how much money they make in tips. They just want to have a lot of fun and turn people on. If they happen to make a few extra bucks because they got their fans super horny, well that's a bonus.
Don't waste anymore time and get your butt over there! You will be so happy that you did and completely stoked about your new hangout. Spend some time looking around the site and checkout all the cool features. They have a 'tube' section, where you can see the performers pictures and videos. We love going through all the sexy content on the gay tube section, because it helps us find new guys to chat with. Be prepared to see a whole lot of nudity and tons of hotness. If you are into some really freaky stuff, you can go to their Tags page and search by category or fetish. An example of some good ones are: Master, Muscle, Bigdick, and Latino.